Hey My Friends...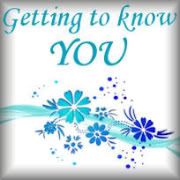 I am participating in "Getting to Know You" with Lynnette from
Dancing Barefoot on Weathered Ground.

You can go
here...
to join in on the fun.
She plans to feature one or two different bloggers on Mondays and Fridays. This way we get to know more about each other... and visit featured blogs. We will be "getting to know you."
Hope you will join us...